Sweet Salvation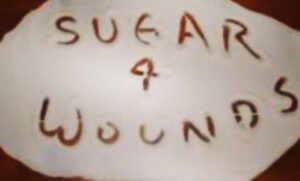 Plain white sugar is a scientifically proven, highly effective wound healing substance.
It has been applied successfully to treat serious, sometimes life threatening conditions.
Sugar (when applied topically to wounds) protects against bacterial infections, speeds up healing, and reduces scarring.
Here are some studies to read.
Use of granulated sugar in treatment of open mediastinitis after cardiac surgery
Use of sugar and povidone-iodine to enhance wound healing: five year's experience
Treatment of recurrent postoperative mediastinitis with granulated sugar.
Use of Sugar on the Healing of Diabetic Ulcers: A Review
Why do some cavity wounds treated with honey or sugar paste heal without scarring?
Use of granulated sugar therapy in the management of sloughy or necrotic wounds: a pilot study.
Sugar inhibits the production of the toxins that trigger clostridial gas gangrene.
Mixture of sugar and povidone–iodine stimulates wound healing by activating keratinocytes and fibroblast functions.
Metabolite-enabled eradication of bacterial persisters by aminoglycosides
Practical considerations of using topical honey for neuropathic diabetic foot ulcers: a review.
Effect of topical honey on limitation of radiation-induced oral mucositis: an intervention study.
Effect of Honey and Eugenol on Ehrlich Ascites and Solid Carcinoma
Effects of honey and sugar dressings on wound healing.
Granulated sugar treatment for leg ulcers: a case report
The use of granulated sugar to treat two pressure ulcers
#sugarhealing
#sugarsaves
#raypeat
Copyright 2021, by Dan M @ CowsEatGrass. All rights reserved (except for quotations and images having their own protected copyrights). This copyright protects author-publisher Dan M's right to future publication of his work in any manner, in any and all media — utilizing technology now known or hereafter devised — throughout the world in perpetuity. Everything described in this publication is for information purposes only. The author-publisher, Dan M, is not directly or indirectly presenting or recommending any part of this publication's data as a diagnosis or prescription for any ailment of any reader. If anyone uses this information without the advice of their professional health adviser, they are prescribing for themselves, and the author- publisher assumes no responsibility or liability. Persons using any of this data do so at their own risk and must take personal responsibility for what they don't know as well as for what they do know.