Welcome To The Cancer Environment
by DanM@cowseatgrass · Published · Updated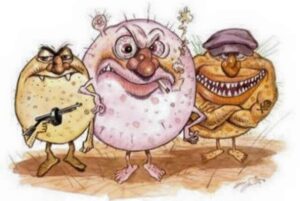 'The organism can only be understood in its environments, and a cell can't be understood without reference to the tissue and organism in which it lives.' Ray Peat PhD
When you listen to what the medical "experts" say about cancer, you might come away with the impression that there has been complete agreement – in the vast amounts of scientific literature on the subject – regarding the nature of the disease and, as such, the kinds of treatments worthy of consideration.
Even though that impression is not accurate, few people are aware that there is a long history of research and experimentation questioning the validity of the standard paradigm – which views cancer as a genetically driven disease of the cell – opening up the possibility for alternative forms of treatment.
'The somatic mutation theory of carcinogenesis has been the dominant force driving cancer research during the 20th century. In brief, it proposes that successive DNA mutations in a single cell cause cancer…' (C Sonnenschein, A M Soto. 2000)
'…its…continuous invocation of 'programs' and 'mechanisms' is a reflection of inadequate metaphors borrowed respectively from computer sciences and outdated physics; organisms are neither computers nor machines.' (Carlos Sonnenschein, Ana M Soto, 2013)
The idea, however, that cancer is not a random genetic event – but a systemic disease that can result from a wide variety of metabolic stressors – has faced significant resistance in both the scientific and medical communities, regardless of the quality of the evidence supporting it.
'We argue that it is necessary to abandon the somatic mutation theory…We propose the adoption of an alternative theory, the tissue organization field theory of carcinogenesis…' (C Sonnenschein, A M Soto. 2000)
'…the tissue organization field theory…incorporates the premise that proliferation and motility are the default state of all cells, and that carcinogenesis is due to alterations on the reciprocal interactions among cells and between cells and their extracellular matrix…There are multiple examples of normalization of cells that once belonged to a cancer…' (Carlos Sonnenschein, Ana M Soto, 2013)
The pushback to this theory arises because it threatens the status quo, suggesting that cancer prevention and treatment need not focus on discovering "responsible" genes and seeking out and destroying "guilty" cells. Moreover, it implies that the dominant approach may be more harmful than helpful.
'In the important realm of experimental cancer research, the proposed change would mean a switch from a subcellular, gene-centric approach to a tissue-based organicist one, in which a combined top-down and bottom-up strategy would include systems biology components.' (Carlos Sonnenschein and Ana M. Soto, 2011)