Vegetable Moderation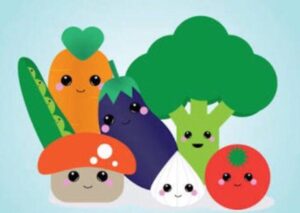 They may look innocent, however too many vegetables – especially when eaten raw or under-cooked – can wreak havoc on your digestion and metabolism.
Indigestible fibers and vegetable matter can feed bacterial overgrowth, promoting endotoxin – increasing the release of a cascade of stress related hormones – often eventually leading to inflammation, infection, degeneration and disease.
Even though plants contain nutrients, they have many defensive chemicals (including the polyunsaturated fats) which can interfere with enzymes, inhibit digestion, and disrupt other processes which are essential for metabolism. They are also a major source of allergens.
Cruciferous vegetables are goitrogenic and can directly interfere with thyroid function, thereby suppressing metabolism and further fueling stress.
Starchy vegetables – especially when under cooked – can further feed bacteria. They are converted very quickly to pure glucose and have the potential to promote blood sugar disregulation – especially in combination with the polyunsaturated fats. Consuming potatoes with a saturated fat can be helpful.
The broth from well boiled leafy greens can be consumed for its nutrients – and high calcium to phosphorus ratio – minus many of the interfering chemicals.
Carrots are one exception – best eaten raw due to their antibacterial qualities – helping to remove toxins. Cooked white mushrooms and bamboo shoots have similar antimicrobial beneficial effects.
In the right context vegetables can be a beneficial part of your diet, however they can easily become problematic and are often far from ideal.
Have you ever experimented with vegetable reduction?
See more here
Dietary carcinogens, environmental pollution, and cancer: some misconceptions
#veggiesarenotinnocent
#norumin
#raypeat