Fishy Fish Oil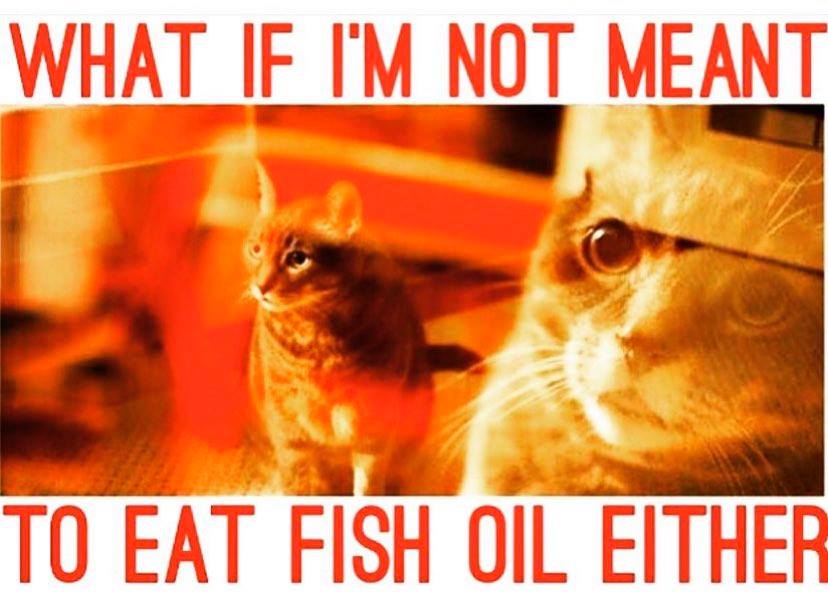 It's not easy to get people to understand that fish oil isn't the health promoter it's made out to be, and it's pretty much impossible to make them see that it might actually be very harmful. But don't think that means I'm gonna stop trying. It's just too much fun.
There actually is good reason to think that supplementing with, or consuming large amounts of Omega-3s, is dangerous, and much of that has to do with the way that it breaks down, either before or immediately after being eaten, and how the body responds to the inflammatory disease promoting substances that it is known to break down into. Acrolein, malondialdehyde (MDA), 4-hydroxy-2-hexenal (4-HHE), 4-hydroxy-2-nonenal (4-HNE), crotonaldehyde, isoprostanes and neuroprostanes, are breakdown products of fish oil that you don't want to take lightly.
Formation of malondialdehyde (MDA), 4-hydroxy-2-hexenal (HHE) and 4-hydroxy-2-nonenal (HNE) in fish and fish oil during dynamic gastrointestinal in vitro digestion; Food Funct. 2016 Feb;7(2):1176-87.
Marine lipids contain a high proportion of polyunsaturated fatty acids (PUFA), including the characteristic long chain (LC) n-3 PUFA…these lipids generate reactive products, such as malondialdehyde (MDA), 4-hydroxy-2-hexenal (HHE) and 4-hydroxy-2-nonenal (HNE), which…are regarded as genotoxic and cytotoxic. PUFA peroxidation can occur both before and after ingestion.
Dietary oxidized n-3 PUFA induce oxidative stress and inflammation: role of intestinal absorption of 4-HHE and reactivity in intestinal cells; J Lipid Res. 2012 Oct; 53(10): 2069–2080.
…long-term intake of limited amounts of oxidized n-3 PUFA…enhances markers of oxidative stress and inflammation…partly due to intestinal absorption of 4-HHE…high DHA supplementation…causes a significant increase in plasma levels of 4-HHE…the oxidized n-3 PUFA diet induced higher IL-6, MCP-1 in plasma, and activation of transcription factor NF-κB…implicated in…inflammation…results suggest a link between oxidized n-3 PUFA and…inflammation…
The break down of fish oil promotes nitric oxide (NO) release, and although most people will be comfortable with that idea, I have explained in previous articles (and provided plenty of studies showing) why that's not something you necessarily want.
It's easy to get tricked into thinking that the short term appearance of improvement, is a sign good things have happened, but stress and trauma can have a deceptive impact on metabolism and immune function in the short term especially, and the NO increasing effect of fish oil consumption, can arguably be seen as a form of trauma, easily mistaken to be genuinely anti-inflammatory.
Inducible Nitric Oxide Synthase Contributes to Immune Dysfunction following Trauma; Shock. 2012 Nov; 38(5): 499–507.
Trauma results in a persistent depression in adaptive immunity which contributes to patient morbidity and mortality….we show…a significant role…for iNOS in the setting of traumatic injury…suggests iNOS-induced NO plays an important role in the pathophysiology of trauma. Our findings may represent NO as a therapeutic target for immunomodulation to limit injury-induced immune suppression.
Immune system suppression is a better description of what fish oil causes, rather than it being anti-inflammatory in the true sense, and studies have demonstrated that nitric oxide (NO) is a driver of immune system dysfunction and depression. Fish oil and NO are both examples of things which are known to promote inflammatory disease, including cancer, being misinterpreted and misrepresented, to provide a selling point.
Long chain omega-3 fatty acid immunomodulation and the potential for adverse health outcomes; Prostaglandins Leukot Essent Fatty Acids. 2013 Nov-Dec; 89(6): 379–390.
…consistent evidence for immunomodulatory effects of dietary ω-3 PUFA (EPA + DHA) intakes. High LCω-3PUFA consumption may alter the immune response to microbes in the gut, alter the community structure of the microbiota and enhance susceptibility to IBD and infection-induced inflammation and cancer.
Maybe you think all the studies showing the potentially harmful effects of the Omega-3 PUFAs aren't conclusive enough, or maybe you believe there must be plenty of good science out there showing why fish oil is a safe and effective miracle cure. You will find a number of studies using fish oil supplementation to treat traumatic brain injury. You can find science that can show pretty much anything you want it to. But when you look at the big picture logically, you might start to realize something is a bit fishy.
The breakdown products of fish oil promote inflammation, oxidative stress, insulin resistance, thyroid dysfunction, increased levels of NO, serotonin, and lactic acid, and all the above are known to be involved in the progression of a vast array of disease states, including cancer, diabetes, heart disease, Alzheimer's, sepsis, stroke, MS, Huntington's disease, Creutzfeldt-Jakob disease, and Amyotrophic lateral sclerosis (ALS). But hey, all that evidence must be wrong, and only the evidence promoting the short term inflammation lowering effects of fish oil supplements is trustworthy. I'll leave it to you to decide.
I'm no doctor or health professional and this is not advice, but I've spent many years looking into science discussing less advertised negative biological impacts of fish oil consumption, and I'm convinced what I've written about here is an important part of it. Also, I've tasted it.